MAD TO LIVE RETREATS X JANNE ROBINSON
THE ULTIMATE WOMEN'S SURF, FITNESS & ADVENTURE RETREATS COLLABORATE WITH WORLD RENOWNED POET, CEO OF "THIS IS FOR THE WOMEN" AND LIFE COACH, JANNE ROBINSON

CELEBRATED POET AND LIFE COACH, LA-BASED SURFER JANNE IS COLLABORATING WITH LEADING GLOBAL WOMEN'S ADVENTURE RETREAT BRAND MAD TO LIVE RETREATS ON A SPECIAL PARTNERSHIP IN 2019

Novemeber 2-9th, Taghazout, Morocco 2019
The second you step off a plane in a new country where people speak a different language, the air is sticky and hot and you're about to embark on an adventure—you grow.
This retreat is going to feature another layer than any excursion we've done before.
This Morocco retreat join author, poet, coach, director and CEO of 'This is for the women'. She will be adding some special soul spice to the mix.
Janne notoriously states that her job is to share slabs of her heart for a living. Her superpower is openness—she finds vulnerability common sense, like breathing.
Guests will enjoy the usual empowering brand of unique Mad To Live magic with surfing, exploration and empowerment as the focus. The week will boast trips to Paradise Valley with its abundance of rock pools and small waterfalls, along with workshops with the all-female Argan oil collective and nourishing yoga in the rooftop shala, set in the golden-tinged beauty of the stunning beach-side Moroccan villa. Janne will be teaching three life coaching workshops throughout the week, which will be a balance of play and courage. Janne describes her workshops as a way of finding a part of you that "wants to shriek with joy at the madness of being deliciously alive and ground you deeply into your power, your voice and yourself."

PRICE GBP BRITISH POUND STIRLING £2,350/USD $2,980
"For the past decade both Sophie and I…
have built a life in adventure, salt and words. We've been walking on different continents and building our own businesses but I see so much of myself in her. The only better thing than burning our own way as powerful women is seeing another woman deeply in alignment"
– JANNE ROBINSON
Throughout this week you will still be connected to your spirit and a-livened by the magic we always offer but we are also bringing in a different experience which will have a space for you to be with you.
Janne will be teaching 3 workshops throughout the week that focus on your relationship with creativity, your relationship with money, your relationships with your relationships, your relationship with yourself.
This retreat with be a balance of play and courage as well as softness, opening and connection.
We are living in a Yang world—especially as women, the time to conquer and make change feels like now—and because of this we are wildly Yin deficient.
Yin is the rest, the nourishment, the quiet, the stillness and the calm.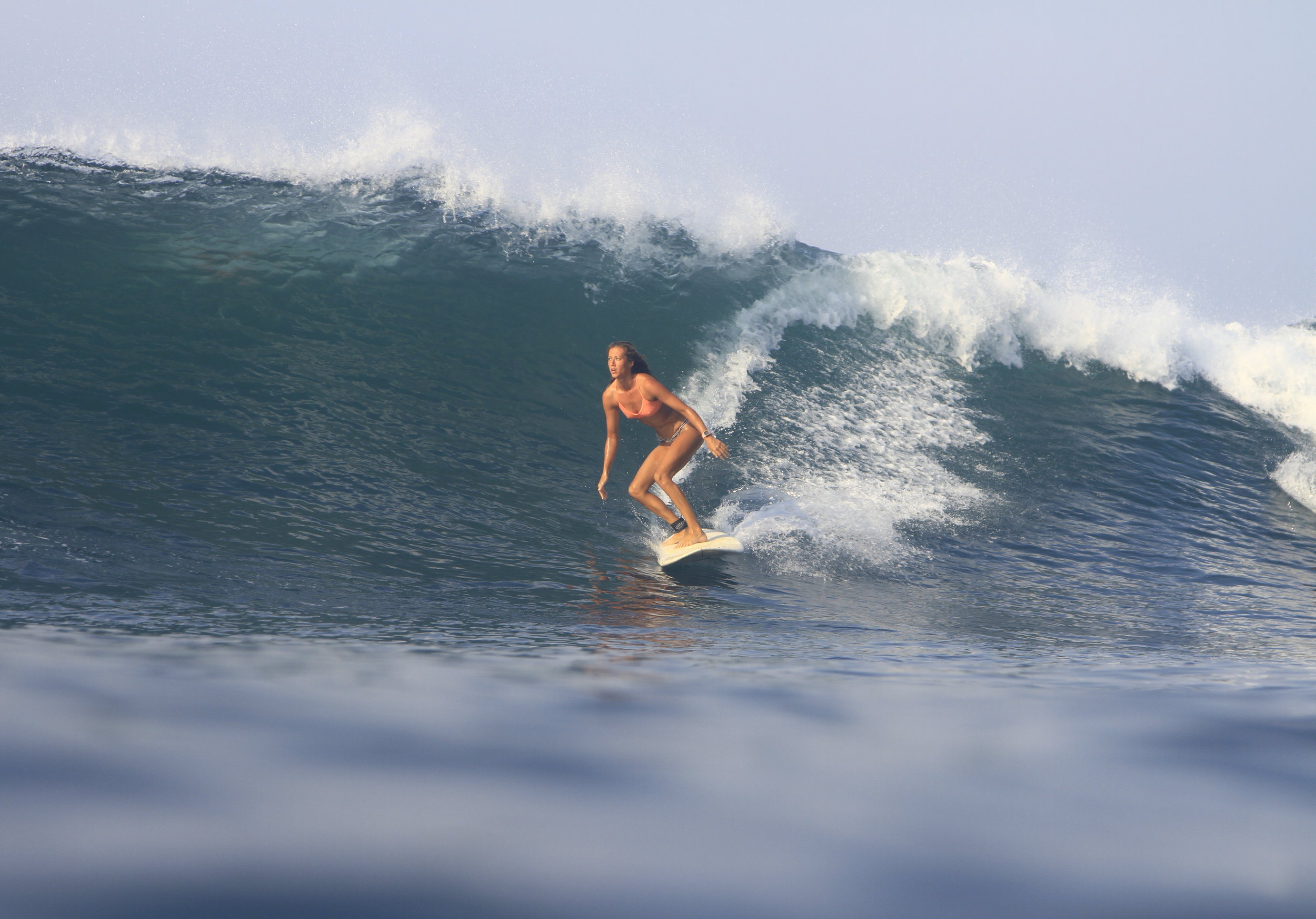 "Through workshops our aim…
throughout the week is to feed the part of you that wants to shriek with joy at the madness of being deliciously alive and ground you deeply into your power, your voice and yourself…" - Janne
included
Surfing with expert coaching

3 workshops with Janne Robinson

Yoga classes in the beautiful rooftop shala overlooking Banana Beach

Camel riding

Trip to the stunning Paradise Valley & the sand dunes

Visit to the Argan Oil Female Collective and Botanical Gardens

Ocean front swimming pool

Nutrition focused meals from the on-site chef: All meals included, plus a

BBQ night out at Amouage, the boutique hotel

Hammam (Moroccan spa)

Beautiful beachfront accommodation at Villa Mandala

Tea, coffee, filtered water, fresh fruit, daily home-baked treats

Our fantastic caring team providing host service

throughout the week

Transport to and from Agadir airport included free of charge (Not Marrakesh)

FREE gifting from our brilliant sponsors

Wifi is available at the Villa Mandala

Bath towels are provided but not beach towels

Not including flights and alcohol
Food
Indulge in delicious, nutritious food. Using only the best and freshest local produce, our team of talented local chefs, make each meal a taste sensation. Enjoy super smoothies, freshly squeezed juices, fresh local breads, yoghurts, eggs, crepes, dried fruits, nuts and a rainbow platter of seasonal fruit. Lunch is a picnic on the beach with freshly filled baguettes, varied mixed salads, homemade falafel, sweet treats and fresh fruit.
At sunset, feast on gourmet Moroccan and international dishes; our famous dips and tapas, spiced chick pea aubergines, toasted almond and apricot rice and divine chocolate avocado tart are a few of the reasons everyone wants to take our cook book home!
ACCOMODATION
The retreat is based at the enchanting Villa Mandala, in front of wild Banana Beach on the Atlantic coast. This charming villa, beside fantastic surfing beaches and tranquil bays, stands out as unquestionably the very best accommodation in the region. Villa Mandala is a hidden gem. Bougainvillea flowers provide colourful shade for the front terrace and dining area and there is plenty of space for sunbathing and lazing by the ocean front swimming pool.
You will be sharing rooms with your other fellow retreaters!
The 9 beautiful bedrooms are authentically decorated, sprinkled with trinkets and designed to a theme. There are 4 spacious ocean front bedrooms, 4 looking out over the foothills of the Atlas and 1 peaceful bedroom downstairs. All bedrooms are en suite except 2. The non-en suites share a bathroom and there is an additional bathroom on the ground floor.
PRICE GBP BRITISH POUND STIRLING £2,350/USD $2,980
Payment plan of 4 payments available.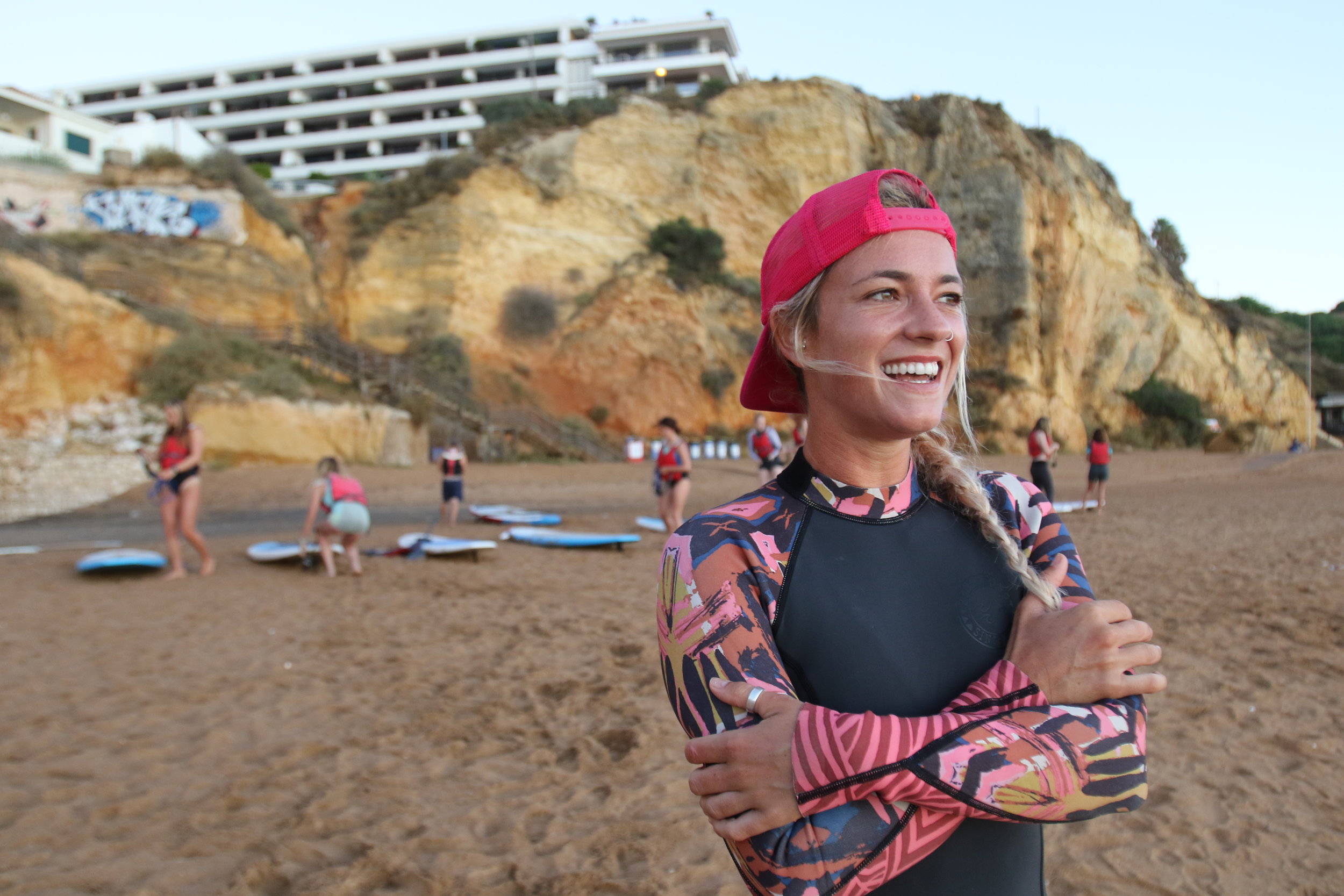 "Mad To Live is so incredibly excited…
to be partnering with the brilliant Janne Robinson on this special retreat for 2019. We are committed to bringing women galvanizing life experiences routed in creative adventure, enjoying the outdoors, and the bonds of meaningful female connections" – Sophie Everard