NOSARA, costa rica
Start 2020 with a life-changing 7 day adventure in breath-taking Nosara in the Guanacaste region of the lush and wildly beautiful Costa Rica. The trip is set to be a heart-racing, unforgettable adventure with a focus on physical and mental wellbeing and learning new skills to take home with you. From touch down get off the beaten track and immerse yourself in the culture of "Pura Vida" and find out why the region is one of only 7 "blue zones" (where people are happiest and healthiest) in the world.
Surf the 25c warm waves in bikinis and seriously take your surfing to the next level, adventuring in one of our great planet's countries with the richest flora and fauna life in the world.
The retreat will be a week's surfing with expert tuition, invigorating and restorative yoga sessions atop the jungle canopy, horseback riding at sunset on the beach, climbing, nature hikes, exploring the verdant and unparalleled native flora and fauna and getting up close and personal with some of Costa Rica's infamous locals including the white-faced monkey.
The onsite chefs will prepare locally-sourced nutritious meals at the stunning villa perching over the jungle.
COSTA RICA 2020
FEBRUARY 22-29
COSTA RICA 2020
FEBRUARY 29-MARCH7
INCLUDED
Expert surf coaching in the warm water waves (bikini surf!) of Playa Guiones with our top coaching team

Land based surf coaching classroom: Theory, etiquette and more at the Villa

Accommodation at our beautiful jungle-top villa with swimming pool (and butterflies, monkeys & more!)

All meals (Breakfast, lunch, afternoon snack, dinner) excluding 2 dinners out and excluding alcohol (available to buy in stores)

Outdoor climbing session (no experience necessary)

Yoga at the jungle canopy villa

Meditation & intention setting

Beach bonfire

Horse-riding on the beach at sunset

Nature Hike

Mad To Give : New For 2020! Tree Planting session to off-set carbon footprint available

Our fantastic caring team of hosts providing host service throughout the week

FREE gifting from our brilliant sponsors

Airport Transfers (Liberia Only), at our designated departure times

Not including flights, alcohol, 2 dinners out
COST
USD $ 2,550

Deposit $1,100 to secure spot (terms & conditions sent prior to booking)

Payment Plan Available
And The inimitable Mad To Live magic!
The Mad To Live Retreats Villa is privately perched atop the jungle, a beautiful Costa Rican "tipico" Rancho. The facilities were designed using the finest native woods of the Guanacaste region which creates true "Rustico Fino" design". The Surfers Rancho as we call it, connects to the pool where you may want to use the WiFi , or take in the breath-taking panoramic jungle mountain views. Chances are good you will be waking up to the sound of howler monkeys playing in the trees outside your cabina or hear the unique sounds of the chachalaca.
You will be rooming with a fellow retreater unless private is requested at extra cost.
All cabinas contain air conditioning, private bathrooms, towels, linens, and the usual common howler monkey sightings!
FOOD
Indulge in delicious, nutritious food. Using only the best and freshest local produce, our talented local chef makes each meal a taste sensation. With a focus on organic locally grown produce, taste the best of Costa Rica over the course of the week.
FAQ
GOT SOME QUESTIONS? WE GOT YOUR BACK!
I AM TAKING A SOLO-ADVENTURE LIKE A BAD-ASS AND WANT TO COME ALONE. WILL I BE THE ONLY SOLO RETREATER?
First-up, you rule and you are one of our kind! So many of our guests are adventurous, solo-travellers. You arrive as one, and leave with a whole new pack of best mates, other women with a similar mindset open to the new and adventure. How's that sound?!
COOL! WILL I BE SHARING A ROOM?
Yep, you will be room-sharing with your new BFF, aka your roomie for the week. Single rooms are available at an extra cost.
ARE MAD TO LIVE RETREATS JUST FOR EXPERIENCED SURFERS?
Not at all! Many of our awesome ladies are complete beginners. We cater to all levels, taking learners to beginner-friendly waves where we ensure you receive ample 1-1, video analysis and photography and in-depth coaching. Intermediates and advanced can benefit from advanced coaching with our accomplished coaches who will work to help you overcome any hurdles with your surfing and enjoying the best of the breaks.
WHAT AGE GROUP ARE MAD TO LIVE RETREATS SUITABLE FOR?
We have welcomed ladies of all ages at Mad To Live, and have had everything from 17—60 years old, many solo, friends, daughters, mothers, from the US, UK, New Zealand, Syria, Ireland, France, Hungary, Canada, Cyprus, Belgium, Italy and more! Adventure has no age on it



Costa Rica Testimonial
Need more convincing? Check out what Blogger Carly Rowena made of her trip to Costa Rica with Mad To Live Retreats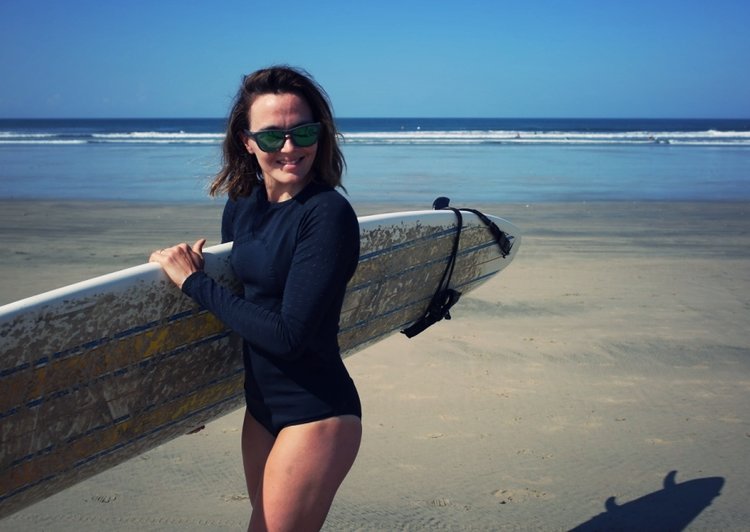 "My fondest holiday memories growing up were all about outdoor activities and adventure. I might be older now (36) but haven't grown out of wanting those same things! No longer will I have to struggle with the boredom of a conventional holiday and have already booked onto my second Mad to Live retreat. The company, activities, environment and food exceeded expectations on every level, I have made some great friends and wonderful memories. Thank you Sophie!."
COSTA RICA FAQ
· A peaceful country safe from political issues
· No injections required to visit
· No Visa required (just an American ESTA if your flight is in transit through the USA)
RETREAT LOCATION